Samsung Boosts Batteries with Graphene
NEW YORK – Researchers from Samsung's Advanced Institute of Technology (SAIT), the company's R&D hub, have found a way to extend lithium-ion battery life using silicon and graphene. The approach has the potential to increase the volumetric energy density of lithium ion batteries by 1.8x, Samsung representatives told EE Times.
SAIT fabricated anode material by growing graphene on the surface of silicon without forming silicon carbide. The new material has four times the capacity of commercial graphite. The research was first detailed in the journal Nature Communications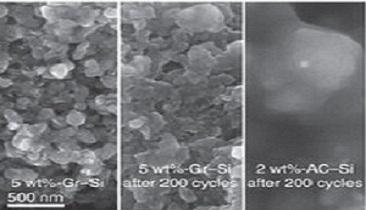 Researchers previously attempted to use silicon for longer-lasting li-ion because of its density and ability to hold a charge, but the anode expands with the addition of lithium. To combat this effect -– a no-go for small devices –- the SAIT team developed a sliding mechanism on the graphene layer that "accommodates the volume expansion of silicon while exerting a clamping force that helps maintain the integrity of the silicon particles during volume expansion."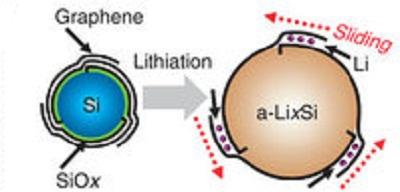 The carbide-free graphene was developed with a chemical vapor deposition process which included using a mild oxidant, Phys.org reported. The graphene also helped prevent the silicon from breaking down over time.
Despite figuring out a process, researchers still have not found a way to manufacture carbide-free graphene in mass quantities. Attempting to prove that something new not only works better, but it is also reliable for commercialization is no easy feat, SAIT said.
"The largest obstacle to realizing graphene's full application potential is currently the high cost and low reliability for large-scale production and manufacturing," the SAIT representative said. "However, the team here is working very hard to make it happen."
READ MORE